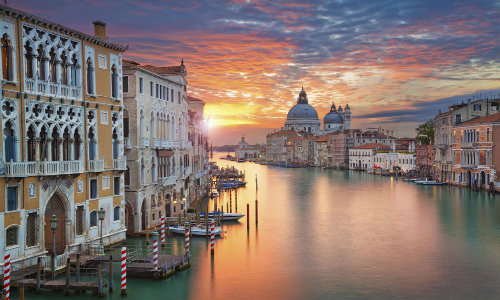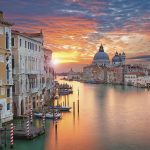 4 or 6 nights two city break holiday
Flights + 4* city-centre hotels + Train
ATOL Protected
Rome and Venice holiday combines two great Italian cities in one trip with must-see attractions like the Colosseum, the Roman Forum, and the Vatican, and the Gondola Ride in beautiful Venice.
---
What's included in this multi-centre Rome and Venice Holiday:
✔ 4 or 6 nights hotel stay with great reviews where you can choose to stay for 2 or 3 nights in Rome and Venice each
✔ Direct return Flights from London or regional Airports
✔ Internal Rome to Venice Train transfer
(Flights available from other Regional UK airports like Glasgow, Manchester etc. Request Quote)
---
4 or 6 Nights: Rome and Venice Holiday Itinerary 2021/2022
Direct Flight from London/Regional to Rome (FCO/CIA)
2 or 3 nights City centre accommodation in Rome
Rome (Roma Termini) to Venice (Venezia Mestre) train direct (Trenitalia) takes approx 3 hour 30 minutes for 510 kms
2 or 3 nights City centre accommodation in Venice
Return direct Flight from Venice (VCE/TSF) to London/Regional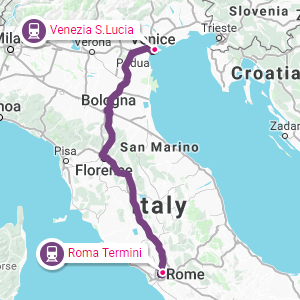 (Itinerary is adjustable and days can be added/removed in any destination of your choice or simply add other Italian Destinations like Florence, Lake Garda or Sorrento to make it a Triple Centre Holiday)
---
Rome and Venice twin city break 2021, combined holiday package: Dates & Prices
Option 1: 4 nights stay, 2 nights in Rome & 2 nights in Venice holidays 2021 with internal train transfer and return flights
01-30/June/2021 – £299 pp
01-31/July/2021 – £329 pp
01-31/August/2021 – £329 pp
01-30/September/2021 – £299 pp
01-31/October/2021 – £279 pp
01-30/November/2021 – £249 pp
01-15/December/2021 – £149 pp
Option 2: 6 nights stay, 3 nights in Rome & 3 nights in Venice holidays 2021 with internal train transfer and return flights
01-30/June/2021 – £399 pp
01-31/July/2021 – £399 pp
01-31/August/2021 – £399 pp
01-30/September/2021 – £379 pp
01-31/October/2021 – £349 pp
01-30/November/2021 – £329 pp
01-15/December/2021 – £299 pp
For your specific holiday dates: Send Enquiry or call to book 020 8168 8080
---
Holiday to Venice and Rome Combined Details:
✈ Flights details:
Return Direct Flights: Included
Departure Airports: London Gatwick, Heathrow, Stansted, Southend, Luton (Flights from other regional airports are also available. For your specific departure airport: Request Callback)
Arrival Airports with Airport Code: Leonardo da Vinci–Fiumicino Airport (FCO), Ciampino–G. B. Pastine International Airport (CIA), Venice Marco Polo Airport (VCE), Treviso Airport (TSF)
Airlines: Easy Jet, Ryan Air (Depending on Date and Departure Airport)
Hand/Hold luggage and In-flight meals: Depends on Airlines Policy
Airport taxes: Included
Rome 4-star stay details:
Hotel Name: Palladium Palace
Address: Via Gioberti, 36, 00185 Roma RM, Italy
Hotel Name: Best Western Hotel President
Address: Via Emanuele Filiberto, 173, 00185 Roma RM, Italy
Venice 4-star stay details:
Hotel Name: The Plaza Hotel
Address: Viale Stazione, 36, 30171 Venezia VE, Italy
Hotel Name: Quality Hotel Delfino Venezia Mestre
Address: Corso del Popolo, 211, 30172 Venezia VE, Italy
✔ Room Type: Standard Room
✔ Wi-Fi: Yes Free included
✔ Board Basis: Room Only
✔ CHECK IN / CHECK OUT: 14:00 / 11:00
Things to do on your Rome and Venice Holiday:
Rome: Vatican Museums, Sistine Chapel, St Peters Basilica, Colosseum, Roman Forum and Palatine Hill Combo Tour from £68 pp. Entrance tickets with skip the line
Venice: Gondola Ride Tour from £25 pp
---
How to Book:
---
Important info:
Travel Insurance not included
City tax: city tax to be paid to the Hotel directly
Single supplements will apply for solo travellers.
This is a per person (pp) offer based on 2 people sharing.
Passport, visa, health and other immigration requirement is your responsibility
---
Rome and Venice Holiday Travel Guide
Magical Italian cities – Rome and Venice
In most Italian cities you will find some common traits like history, amazing places to eat, sleep, see and do. Our Rome and Venice holiday travel guide provides a very realistic description on what to expect on this holiday.
Although both cities are in the same country yet they offer a unique experience.
Rome and Venice with its majestic Roman and lagoon architecture, museums, or savory dishes like gelato, seafood, and pizzas, are more than magical and there is something for everyone!
Currency and Credit Cards
Rome and Venice use 'Euro', which is trading at approx €1.13 against £1.
Even though credit cards are widely accepted but we would recommend you carry physical cash (and small change) for smaller shops, markets, and cafes.
Weather
The best time to visit Venice and Rome is from March to October. Where July and August can get very hot temperatures of over 30 degrees Celsius. So keep yourself hydrated.
Getting Around Rome and Venice
You can enjoy these beautiful places through public transport such as boats, buses, trams, metros, and railways to avoid chaotic traffic and explore the charming hidden corners and pleasant scenery. Use the Roma Pass if you are traveling for three days or more in Rome. The Pass includes several travel discounts and entries to museums and performances.
Venice also offers various Tourist travel cards, which are often a great travel hack to save money.
Accommodation
Rome and Venice have many popular lavish hotels and Budget comfortable accommodation. When in Rome, you must visit Hotel Golden or Hotel Artemide for its luxurious services.
Stay in Rome neighborhood with direct access to the central attractions to save money but yet get the luxury hotel.
In Venice the best place to stay is Mestre which is not very far from St. Marks Square and you will get the branded and non-branded luxury hotels.
What to wear?
Since the weather is warm, you must opt for comfort summer wear.
(Please cover up in religious places like The Vatican.)
Please carry a good pair of shoes as you will be doing a bit of walking. Also, a handy sunscreen will ensure you don't damage your skin!
What to do in Rome
Visit the Vatican
Explore the Roman heritage, art, and history in Vatican City and museums if you want to know more about ancient history.
The Pantheon
A must-go place in Rome as The Pantheon is the only ancient Roman temple that has survived.
Colosseum and Roman Forum
You can visit the iconic Colosseum, one of the seven wonders of the world, the Roman Forum, and the Trajan's market.
What to do in Venice?
Visit the Basilica San Marco
The 3rd church built in Piazza San Marco is famous for its architecture- walls, mosaics, and domes. If you're interested in architecture, then this spot is a must-visit!
Walk Across Rialto Bridge
The only way to cross the Grand Canal in ancient times, Rialto Bridge is famous for its handiwork creations could be one of the things you would do along with boat rides around Venice city.
So what are you waiting for? A great adventure lies ahead!
For your specific holiday dates: Send Enquiry or call to book 020 8168 8080
---
Similar Holidays:
---